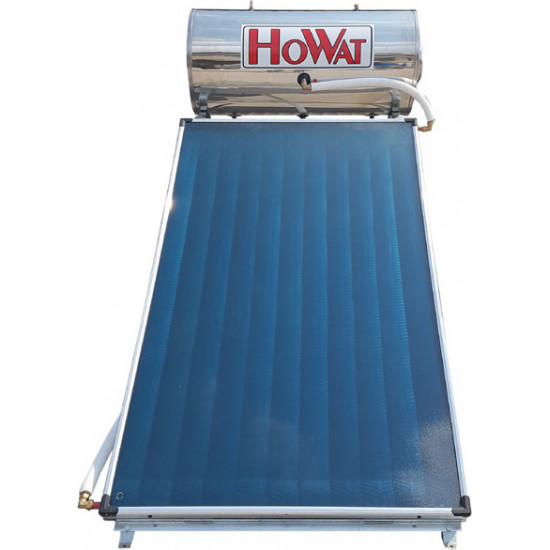 Solar Boiler Howat Glass Triple Energy (120 lt) with 1,5 m² panel
Solar Boilers
Capacity (lt)
120
Panel
1,5 m²
Type of Energy
Triple
Lining
Glass
Features of Boilers:


-
External housing of the boiler made of stainless steel antimagnetic steel (AISI 304 BA) or painted gray steel (RAL 9006) 0.5mm thick.
- Boiler made of European steel plate type UST 37.2, 2.5 mm thick, tested at a pressure of 18atm.
- Internal double coating of hot enamel baked at 860οC according to DIN 4753 TEIL 3 (GLASS).
- Double wall heat exchanger (Mantle) made of UST 37.2 type steel sheet, 1.5mm thick.
- Thermal insulation from cast ecological polyurethane of high density (> 50kg / m3) and thickness 50mm.
- Magnesium rod for corrosion protection.
- 4KW electrical resistance with adjustable safety thermostat.
Solar panel features:
-
One-piece anodized aluminum profile of anti-corrosion technology for absolute tightness from moisture.
- Thermal insulation from pre-pressed fiberglass coated with 30mm thick aluminum foil.
- Hydroskeleton made entirely of copper.
- Selective absorber welded with Laser technology ensuring incredibly high performance even in harsh weather conditions.
- Unbreakable translucent crystal, prism 4mm thick, low content of iron oxides for greater absorption (safety glass).

Base features:

- Made of galvanized sheet metal, 3 mm
Stock:

In Stock

Model:

SBHW120L15M2GL-3Ε

SKU:

SBHW120L15M2GL-3Ε

HoWat